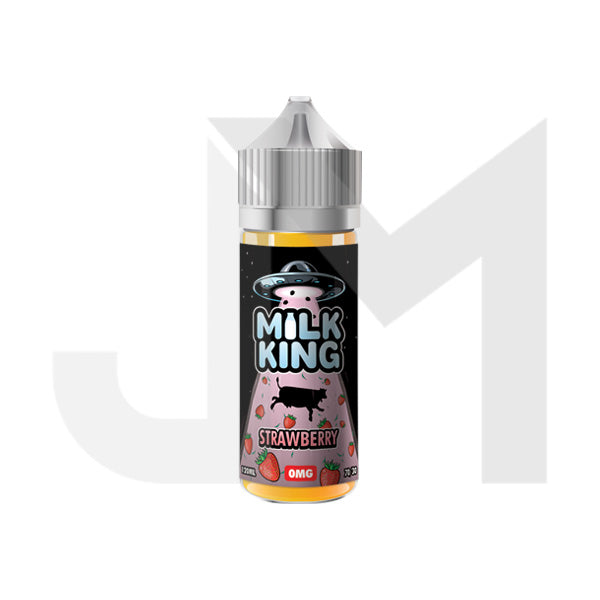 View Larger
Feeling milky? Then try Drip More's Milk King range of shortfills to give your taste buds a milk flavoured sensation to vape with. This high quality series of e-liquids with the renowned Drip More offers four twists to the dairy drink that will more than live a lasting impression.

Best suited for Sub-Ohm vaping devices and kits to use, these Drip More Milk King shortfills are all high VG e-liquids. Therefore, you will be able to best experience with your flavour of choice flavourful, thick clouds of vapour that are smooth enough so your throat won't feel harsh during vaping. And for ex-smokers whoa re looking to get their nicotine cravings fulfilled, there is space for up to 2 nicotine shots which emulates that feeling found when smoking tobacco cigarettes.

- Made In The USA

- 0mg Nicotine Strength

- 100ml E-Liquid Content in a 120ml Shortfill Bottle

- Space for 2 x 10ml Nicotine shots

- 70VG/30PG

- Ideal for Sub-Ohm Devices & Kits

- Childproof Cap & Tamper Evident Seal

- Recyclable Bottle

- TPD Compliant

Flavours:
Strawberry
A tantalising blend of strawberries and milk.

Chocolate
A warm reminder of the delightful cup of chocolate milk we will sip as kids during chilly winter days.

Honey
An udderly perfect blend of sweet honey with creamy milk.

Cereal
An exceptional flavour with its sweet and rich flavour blend of fruity cereal bathed in seductively silky milk topped off with whipped cream.