Wholesale Starter Vape Kits
In the evolving landscape of health-conscious decisions, a growing number of individuals are waving goodbye to smoking and turning to the appealing world of vaping. As a retailer, it's your role to not only meet this increasing demand but to facilitate the seamless transition from traditional tobacco products to the exciting and diverse world of vape products. Catering to this burgeoning market of new vapers, providing them with an easy, hassle-free entry point into vaping is crucial, and what could be more fitting than offering a range of carefully curated vape starter kits?
Vape starter kits are the perfect solution for newcomers in this domain. Remember, the realm of vaping, with its array of devices, vast selection of e-liquids, and a whole new vocabulary of terms, can appear bewildering to novices. Simplifying this journey, vape starter kits present an all-encompassing package. These kits are designed with the beginner in mind, comprising everything a new vaper needs to embark on their vaping journey right off the bat.
At our store, we pride ourselves on housing a comprehensive collection of vape starter kits. We understand that quality matters, which is why we source our kits from the most reputable manufacturers in the vaping industry. Our range includes kits from industry heavyweights such as Smok, OBS, Aspire, and Innokin, among others, affirming our commitment to deliver only the best to our customers.
What's more, we recognise that simplicity and affordability are paramount for those new to vaping. That's why most of our kits are compact and user-friendly, requiring minimal setup and know-how. They are also competitively priced, ensuring value for money for your customers while maintaining profitability for your retail store.
Offering these vape starter kits will not only attract more customers into your store but will also foster a loyal customer base. Once new vapers have their devices, they'll return for regular e-liquid refills and possibly venture into more advanced vaping equipment over time. It's a win-win scenario, driving both footfall and recurring business.
We also understand that in the retail business, time is of the essence. That's why we offer fast, next-day delivery to mainland UK addresses, ensuring that your shelves are never empty. We offer free and fast UK delivery. So why wait? Place your order today and embrace the opportunity to support the growing vaping community while boosting your retail business.
Featured
Featured
Best Selling
Price, low to high
Price, high to low
Alphabetically, A-Z
Alphabetically, Z-A
Date, new to old
Date, old to new
Wholesale Starter Vape Kits Q & A
What features are important in a starter vape kit?
Ideally, a starter vape kit should be compact, compatible with high nicotine e-liquid, have long battery life and be simple to use for beginners.
How much is a starter vape kit?
The price range for starter vape kits is fairly wide. The cheapest retail at around £20 and go up to around £80, with a few being above that level. While the cheapest are still good, it may be worth spending a little bit more for a quality brand that's going to last. The cost of e-liquids also needs to be factored in and they will be in the region of £10-£15.
What is included in a starter vape kit?
A starter kit has everything the consumer needs to start vaping without having to shop around for different accessories. It will have a battery, a coil for heating the e-liquid, a tank to hold the e-liquid and a mouthpiece through which the vaper inhales.
What is the best vape starter kit?
There are so many choices that it's very hard to narrow it down to a shortlist but among the most reliable brands are Smok, Aspire, Vaporesso, Uwell, Geek Vape, Innokin and Voopoo.
How can a vape starter kit help for quitting smoking?
For habitual smokers, a vape starter kit can be an ideal transitional tool to move away from cigarettes. A mouth-to-lung vape kit is the best choice because it comes closest to replicating the throat hit and high nicotine level of cigarettes. Some pod kits based on the drag to vape model without having to use a button to fire them are also helpful.
What makes a good vape starter kit?
Someone who is new to vaping can be easily put off by the apparent complexity of the process and the choices available. A good vape starter kit will keep it simple and enable a user to get started immediately. A beginner may be reluctant to invest too much until they know they like vaping so cost will be important, as will ease of use, cleaning and maintenance.
Are there vape starter kits for all the different vaping systems?
Yes. The starter market has developed to provide easy entry to vaping by any of the main methods. Cigarette lookalikes known as cigalikes are the closest approximation of the smoking experience visually. Pod systems are also small and easy to use but give the consumer the choice of pre-filled pods or pods they can customise with their own chosen flavours. Tank systems are bigger but are the most flexible with longer battery life. Starter kits are available in all categories.
How to charge a vape starter kit?
Most vape starter kits come with a USB charging cable that you simply plug into the device and connect to a power source. It's recommended to charge the device fully before the first use. The charging port is typically located on the side or at the bottom of the device.
Can I use any e-liquid with my vape starter kit?
The type of e-liquid you can use depends on the type of device and coil you have. While most vape starter kits are compatible with a wide range of e-liquids, it's important to check the manufacturer's guidelines. High VG (vegetable glycerin) liquids are thicker and might not work well with certain devices, while high PG (propylene glycol) liquids provide a stronger throat hit and might not be suitable for direct-to-lung devices.
What's the battery life like on a starter vape kit?
The battery life on a vape starter kit varies depending on the device and how frequently it's used. On average, a typical starter kit battery can last anywhere from 1 to 3 days before requiring a recharge. Battery capacity is measured in mAh (milliamp hours), with higher mAh meaning longer battery life.
Do I need to replace the coil in my vape starter kit?
Yes, the coil in your vape starter kit will need to be replaced periodically as it wears out over time. The frequency of coil replacement depends on your vaping habits, but typically it should be replaced every 1-4 weeks. Signs that your coil needs replacing include a burnt taste, less vapour production, and leaking from the device.
What is the capacity of a tank in a starter kit?
The capacity of a tank in a vape starter kit can vary greatly depending on the design and size of the device. Tank sizes typically range from 1.5ml to 5ml. Smaller devices often have smaller tanks, which will need to be refilled more often.
Are there starter kits for direct-to-lung vaping?
Yes, there are starter kits specifically designed for direct-to-lung (DTL) vaping. These devices often have lower resistance coils and more airflow to facilitate taking the vapour directly into the lungs, similar to taking a deep breath.
What safety features should I look for in a vape starter kit?
Key safety features in a vape starter kit include overcharge protection, short circuit protection, automatic cut-off, and vent holes for battery discharge. Some devices also have lockable power buttons to prevent accidental activation.
Can I customise the parts in my vape starter kit?
Many vape starter kits allow for customisation of certain parts such as the tank, coil, and sometimes even the battery. However, it's essential to ensure that any custom parts you choose are compatible with your specific device.
How to clean a vape starter kit?
Cleaning your vape starter kit regularly will prolong its lifespan and enhance the quality of your vaping experience. This usually involves disassembling the device and cleaning each component separately using warm water and a gentle soap. Always ensure the parts are thoroughly dried before reassembling.
What is the nicotine strength in a vape starter kit?
The nicotine strength in a vape starter kit depends on the e-liquid you choose. E-liquids come in various nicotine strengths, typically ranging from 0mg (no nicotine) to 20mg/ml. The right strength for you will depend on your previous smoking habits and personal preference.
How does a vape starter kit work?
A vape starter kit works by heating up the e-liquid to a temperature that turns it into vapour. When you inhale, the battery activates the heating coil that vapourises the e-liquid in the tank. The vapour is then inhaled into your lungs and exhaled.
Do vape starter kits come with a manual?
Yes, vape starter kits usually come with a user manual that provides instructions on how to assemble, use, and maintain the device. It's important to read the manual thoroughly before using your new kit.
Are there starter kits that mimic smoking a cigarette?
Yes, there are vape starter kits that are designed to mimic the feel and experience of smoking a traditional cigarette. These are often called 'cig-a-likes' or 'pod systems'. They are usually compact, lightweight, and utilise a mouth-to-lung (MTL) style of vaping.
Can vape starter kits be used for CBD oil?
Yes, certain vape starter kits are suitable for vaping CBD oil. However, it's important to ensure the device you choose is compatible with the viscosity of CBD oil. It's best to choose a device with a ceramic coil, as these are better suited to heating CBD oil.
Do vape starter kits produce a lot of smoke?
Vape starter kits produce vapour, not smoke. The amount of vapour produced can vary depending on the device and the settings you use. Devices with higher power and lower resistance coils usually produce more vapour. Some devices also have adjustable airflow settings which can influence the amount of vapour produced.
Is it economical to buy bulk supplies of wholesale starter vape kits?
Yes, as with all wholesale supplies, the bigger the order the lower the unit price and over a certain level you will also get free delivery. A lot of vaping tech has an indefinite shelf life, so there are none of the wastage dangers associated with buying perishable goods in bulk.
View more
From Heavy Smoking... to Vaping with Starter Kits
As we move further into the 21st century, the need for healthier alternatives to smoking continues to grow. An increasing number of people are making the conscious choice to switch from traditional tobacco cigarettes to vaping, a trend that UK retailers cannot afford to ignore. Vape starter kits act as the gateway to this healthier lifestyle, offering a smoother transition for heavy smokers while opening the door to a myriad of other vape products.
The journey often begins with a stark realisation. For many, it's a serious health concern or the stark warning from a doctor; for others, it's the simple desire to take control of their health. This is the critical juncture where many heavy smokers consider turning to vape starter kits, a step that could redefine their health trajectory and lifestyle.
Vape starter kits are the ideal entry point for those new to vaping. Designed for ease-of-use, these kits typically include a vape device, a charger, and a selection of e-liquids, which provide a variety of flavours. This all-in-one solution offers a simple, hassle-free initiation into the world of vaping. By offering a comprehensive vaping experience out of the box, these kits help heavy smokers acclimate to a new way of satisfying their nicotine cravings.
From a retailer's perspective, vape starter kits make for an appealing prospect. They act as a gateway product, leading customers to explore the wider range of vaping accessories and e-liquids. Once a customer is comfortable with their initial device, they may seek to experiment with advanced mods, variable power units, and a wider variety of e-liquid flavours and nicotine strengths. Thus, stocking vape starter kits is not just about catering to newcomers, but also about creating opportunities for future sales and establishing a loyal customer base.
The vape market in the UK has seen a rapid evolution, spurred by changing consumer habits and the rising awareness of the health benefits of vaping compared to traditional smoking. The e-cigarette and vape market in the UK was worth an estimated £1 billion in 2021, and with the trend showing no signs of slowing, there is a massive opportunity for retailers to capitalise on.
Remember, transitioning from heavy smoking to vaping isn't just a change in habit; it's a lifestyle shift. As a retailer, you have the power to make that journey smoother and more appealing. Vape starter kits are the perfect invitation to this new lifestyle, and by stocking them, you're offering a lifeline to those looking to quit smoking. In turn, you'll be driving demand for other vape products, boosting sales, and establishing your reputation as a responsible, health-focused retailer.
Incorporating vape starter kits into your inventory is an investment in the future, both for your business and for the health of your customers. By supporting their journey from heavy smoking to vaping, you'll position yourself as a crucial resource in their pursuit of a healthier lifestyle. From vape starter kits to advanced vape products, you'll provide a full range of options to cater to both beginners and seasoned vapers.
In conclusion, the vape starter kit is not just a product; it's a health-conscious choice and a pathway to a better lifestyle. It symbolises a commitment to quit smoking and promotes exploration of the wider vape market. UK retailers, now is the time to tap into this burgeoning market, enrich your product offering, and play your part in promoting healthier lifestyles.
View more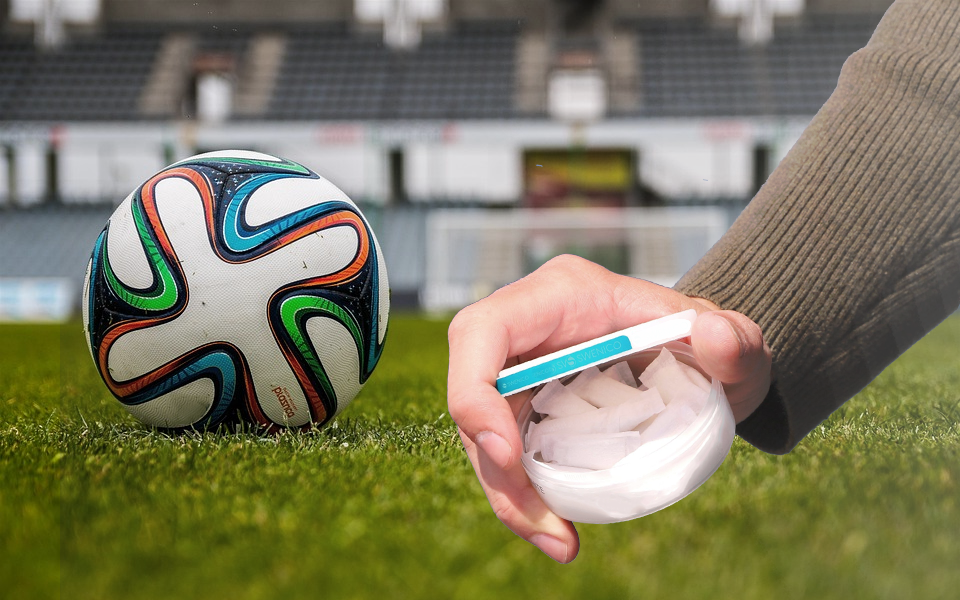 December 05, 2023
There's a new trend sweeping across the footballing world, and it has nothing to do with innovative tactics or ground-breaking training regimes. This trend is...