Wholesale Shortfill E-Liquids
Shortfill e-liquids have been a game-changer in the vaping industry. These products come as larger bottles of nicotine-free e-liquid, with enough space left at the top – thus the term 'shortfill' – to add a nicotine shot or 'nic shot'. This system allows vapers to customise their e-liquids to their preferred nicotine strength, an innovation that has vastly improved the user experience and contributed to the growth of vaping as an alternative to traditional tobacco products.
Shortfills have their roots in a practical response to the Tobacco Products Directive (TPD) established by the EU, which restricted the sale of nicotine-containing e-liquids to a maximum bottle size of 10ml. By selling larger bottles of nicotine-free e-liquid with the option for users to add their own nicotine, manufacturers could continue to offer their products in convenient, larger sizes while staying within the regulations.
The number of nicotine shots needed depends on the desired nicotine strength and the volume of the shortfill bottle. For instance, a typical 50ml shortfill bottle will need one 10ml 18mg nicotine shot to reach a nicotine strength of 3mg. If a stronger nicotine level is required, more nicotine shots can be added, though this may require a larger shortfill bottle to accommodate the extra liquid.
One interesting aspect of shortfills is the opportunity they offer for flavour experimentation. Since the base e-liquid is nicotine-free, vapers can choose to add different flavours of nicotine shots, allowing for a degree of customisation not previously possible. This has led to a vibrant culture of 'DIY' vaping, where vapers mix and match to create their own unique flavour profiles.
At JM Wholesale, we cater to this culture of customisation with a diverse range of shortfill e-liquids. We understand that every vaper is unique, and we strive to offer a product range that reflects this. Our selection includes an extensive range of flavours and brands, including Dinner Lady, Vampire Vape, Elf Juice, Strapped, Peeky Blenders, IVG, Fantasi, Billiards, Ultimate Puff, and Riot Squad.
Each of these brands brings its unique spin to the shortfill e-liquid market. Dinner Lady, for example, has become renowned for its dessert-based flavours, delivering a sweet and nostalgic vaping experience. Vampire Vape, on the other hand, focuses on traditional, classic flavours, offering an authentic and straightforward vaping experience.
For vapers looking for something a bit different, Elf Juice and Peeky Blenders offer a range of unconventional and exciting blends. Strapped caters to those with a sweet tooth with its candy-inspired range, while IVG has developed a reputation for its high-quality, distinct flavours.
With the sports-themed range from Billiards and the wide variety of indulgent flavours offered by Ultimate Puff, there is something for everyone in our selection. Regardless of preference, the one constant across all the brands we stock is a commitment to quality and customer satisfaction.
Choosing your vaping supplies from JM Wholesale ensures that you're getting the best products on the market. We understand the vaping industry and work hard to keep our range up to date with the latest trends and innovations. We're committed to providing the best customer experience possible, and that includes offering a wide variety of shortfill e-liquids to cater to every vaper's preference.
The popularity of shortfills continues to grow as more and more vapers discover the benefits of this innovative system. The flexibility and customisation offered by shortfills, combined with the exciting range of flavours available, make them a must-have for any vaper or retailer.
So why not explore our range of shortfill e-liquids today? Whether you're a small business owner looking to expand your product range or a retailer seeking the latest products to keep your customers satisfied, we're confident that you'll find what you're looking for at JM Wholesale. Join us as we continue to support the vaping community with quality products, a diverse range, and top-tier customer service.
Featured
Featured
Best Selling
Price, low to high
Price, high to low
Alphabetically, A-Z
Alphabetically, Z-A
Date, new to old
Date, old to new
Wholesale Shortfill E-Liquids Q & A
What are Shortfill E-Liquids?
Shortfill E-Liquids, also known as shake 'n' vape, are larger bottles of vape liquid that are intentionally not filled to the top. This 'shortfill' space allows for the addition of nicotine shots if the user so desires. These E-Liquids typically come nicotine-free and in larger sizes such as 50ml or 100ml. The concept emerged in response to the TPD (Tobacco Products Directive) regulation in the EU, which limits the sale of nicotine-containing e-liquid to a maximum bottle size of 10ml. With Shortfills, vapers can buy larger amounts of their favourite e-liquid, add a separate nicotine shot, and mix it themselves.
How are Shortfill E-Liquids used?
To use a Shortfill E-Liquid, you first need to remove the cap and the nozzle from the bottle. Then, you add your nicotine shot(s) into the space left 'short', depending on the nicotine strength you want. A common proportion might be to add a 10ml, 18mg nicotine shot to a 50ml Shortfill, creating a 3mg strength e-liquid. After adding the nicotine, you need to replace the nozzle and cap, then shake the bottle vigorously for a few minutes to ensure the nicotine is evenly mixed into the e-liquid. Once you've ensured a thorough mix, the e-liquid is ready to be used in your vaping device.
How can I place a wholesale order for Shortfill E-Liquids?
To place a wholesale order for our Shortfill E-Liquids, please register for an account. We will review your details and approve your account, usually with 2-3 days.
Are your Shortfill E-Liquids compliant with UK regulations?
Absolutely. Our Shortfill E-Liquids adhere strictly to UK and EU regulations, including the TPD rules. Our products are all made in an ISO certified facility and every batch is tested to ensure consistent quality. The products are all labelled correctly, with comprehensive warning and product information, in line with UK legislation. We also have full traceability on all our products.
What flavours of Shortfill E-Liquids do you have available?
We offer a vast variety of flavours to cater to the diverse tastes of vapers. Our range includes fruit flavours such as apple, berry, and citrus; dessert flavours like vanilla, custard, and pastry; and even complex blends like tobacco and menthol. We regularly introduce new flavours based on market trends and customer feedback.
What is the minimum order quantity for wholesale?
We have no minimum order requirements! This means that you can order as many or as few products are you wish, giving you the ability to sample, explore and test products with minimal commitment
Can I customise the packaging or branding on your Shortfill E-Liquids?
Yes, we offer a white-label service for businesses looking to sell our products under their brand name. You can choose to have your logo and branding on the bottles, giving you a fully customised product.
How long does Shortfill E-Liquid last on the shelf?
Most E-Liquids, including Shortfills, have a shelf life of up to two years if stored properly. Proper storage involves keeping the bottles in a cool, dark place and away from direct sunlight, which can degrade the nicotine and flavourings. Once a bottle is opened and nicotine is added, we recommend using the E-Liquid within a few months for optimal flavour.
What's the nicotine content in your Shortfill E-Liquids?
Our Shortfill E-Liquids are supplied nicotine-free, allowing you to add your own nicotine shots and tailor the strength to your preference. However, each Shortfill bottle is designed to accommodate a specific amount of nicotine shots to achieve a standard strength. For example, adding one 10ml, 18mg nicotine shot to a 50ml Shortfill bottle would create a 3mg strength e-liquid. Instructions for mixing are typically found on the bottle, but our team can also provide guidance if needed.
View more
A Complete Guide to Mixing: How to Perfectly Blend Your Shortfill E-Liquids
As you delve into the world of shortfills, you'll find that mixing is more than just a step in the vaping process. It's about mastering the art of balance, discovering your preferred strengths, and exploring an endless variety of flavour possibilities. But, the big question is: how do you get that perfect blend?
It starts with a good understanding of your products. Shortfills offer a kaleidoscope of flavours to pick from - fruity, minty, sweet, creamy, or maybe a sophisticated tobacco blend. Then there's the nicotine shot, usually provided in a 10ml bottle, with different levels of nicotine strength to choose from. It's essential to pick the flavour and nicotine strength that suits your preference, as this forms the basis of your vaping experience.
Now, with your shortfill and nicotine shot ready, it's time to get mixing. Start by giving your shortfill a good shake. This helps to distribute the flavour evenly throughout the e-liquid. Next, you'll need to remove the cap and the nib from the shortfill bottle. This creates the necessary room to add your nicotine shot.
But how much nicotine should you add? This largely depends on your desired nicotine strength. A common practice is to add one 10ml, 18mg nicotine shot to a 50ml shortfill, resulting in a 3mg strength e-liquid. However, if you prefer a stronger nicotine hit, you might opt to add more. Keep in mind, though, that adding too much nicotine could potentially overpower the flavour of your e-liquid.
Once you've added your nicotine shot, it's time to replace the nib and the cap. Now comes the most crucial part - shaking. And we don't mean a gentle swish. Give your bottle a vigorous shake for a couple of minutes. This ensures the nicotine shot is thoroughly mixed with the e-liquid, resulting in a consistent blend.
After shaking, patience is key. It can be tempting to load up your device and start vaping immediately, but hold on for a moment. Let your newly mixed e-liquid sit for a little while. This resting period, known as steeping, allows all the ingredients to blend together fully, and can often result in a smoother, fuller flavour.
And that's it! You've successfully navigated the world of shortfill mixing. Of course, as with any skill, practice makes perfect. So don't be disheartened if your first few mixes don't turn out exactly as you'd hoped. Experiment with different flavour combinations, adjust your nicotine levels, and most importantly, have fun with the process. After all, the beauty of shortfill e-liquids is the freedom they give you to create your perfect vape.
View more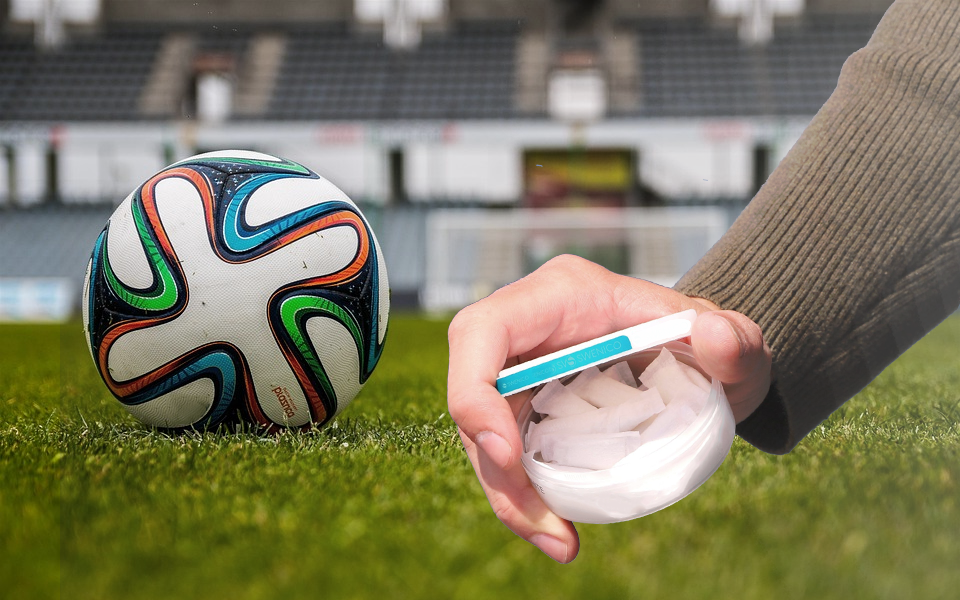 December 05, 2023
There's a new trend sweeping across the footballing world, and it has nothing to do with innovative tactics or ground-breaking training regimes. This trend is...