Wholesale H4-CBD Products
Please note: H4-CBD is legal to possess and supply in the UK, just like CBD. Because H4-CBD is both non-psychoactive and not prohibited by the Misuse of Drugs act, it is regarded to a be a legal cannabinoid in the UK.
However H4-CBD flowers are illegal and we do not stock them - regardless of their origin, hemp flowers are considered illegal.
Your local laws may be different, always check before ordering. We fully comply with all UK laws and regulations.
We are able to provide third-party lab reports confirming our H4-CBD's quality, contents and purity. Get in touch to learn more.
H4-CBD (tetrahydrocannabidiol) is a new form of CBD which is growing in popularity for its high-level of potency. This hydrogenated version of CBD is created by combining hemp-derived CBD molecules with hydrogen atoms in a lab. It delivers many of the benefits and effects enjoyed with CBD, with its potency meaning only a very small dose is required by most people. Consumers have a lot of flexibility in how they choose to consume H4-CBD, depending on their personal preferences and individual needs, with products ranging from H4 gummies, to vapes and extracts. 
H4-CBD has a binding affinity for the CB1 receptor that is approximately 100x stronger than CBD, making it a mild to moderate cannabimimetic agent that produces a noticeable uplifting yet relaxing effect, without significant intoxication or any psychoactivity which is associated with cannabis or THC.
H4-CBD represents an exciting new development in the world of CBD, offering a potent and versatile alternative to traditional CBD products. Whether you're looking to manage pain, reduce anxiety, or simply improve your overall well-being, H4-CBD is definitely worth exploring. Eating H4 gummies or snacks are amongst the slowest routes of administration, taking up to 1 hour before effects are felt. H4-CBD vapes and extract are conversely much faster, with effects being felt in just a few short minutes.
Similar to CBD, H4-CBD can also be consumed sublingually, which means it can be absorbed through the tissues under the tongue. This method of consumption allows for fast onset and high-bioavailability, as the H4 bypasses the digestive system and enters directly into the bloodstream. H4-CBD sublingual oils and tinctures are available in various strengths and flavours, making it easy to find the right product to fit the individual preferences of your customers.
It is often paired with other minor cannabinoids and phyto-cannabinoids like CBD, CBC and CBG, as well as raw-hemp extracts to create cannabinoid blends. Consumers can enjoy H4 blends which maximise their effects by utilising the "entourage effect" - where different cannabinoids work together to potentiate each other. New H4 users should start with a small dose between 1mg-10mg to become accustomed to the effects and gauge their sensitivity.  
JM Wholesale stocks a wide selection of H4-CBD products, always available at the UK's lowest trade prices with fast free delivery. We have an excellent track record of supplying high-quality cannabinoids to the UK market, including manufacturing and distribution of thousands of CBD and H4-CBD products.
H4-CBD distillate is one of our most popular products. This highly pure and concentrated form of H4-CBD is perfect for users who want to experience the benefits of H4 in a potent form which is quick, easy and long-lasting. Our H4CBD distillates are tested to ensure they are free from any contaminants and have a high level of purity. Whether you're a seasoned CBD user or just starting out, H4CBD distillate is one of the most attractive options to incorporate H4 into your wellness routine. These distillates range in colour, from clear to gold, with extracts darkening in colour over time. 
H4-CBD vapes and e-liquids have gained significant popularity among consumers. These products offer a convenient way to consume H4-CBD, without the need for complicated equipment or preparations. Disposable H4-CBD vapes, in particular, have seen a surge in demand due to their ease of use. They come pre-filled and are ready to use right out of the box, making them a hassle-free option for those who are always on the go. With just a few seconds, users can enjoy the benefits of H4-CBD with rapid onset of effects.
Please note; H4-CBD is not a psychoactive compound, so does not fall under the remit of the UK's Psychoactive Substances Act 2016. This is in contrast to other hydrogenated cannabinoids, like HHC, which may be psychoactive. JM Wholesale ensures that all our H4-CBD products are compliant with all applicable and relevant regulations and laws. 
JM Wholesale are the UK's leading supplier of cannabinoid products, including H4-CBD and CBD. We have years of experience supplying the highest-quality vapes, edibles, extracts and concentrates to businesses of all sizes and needs throughout the UK.
Featured
Featured
Best Selling
Price, low to high
Price, high to low
Alphabetically, A-Z
Alphabetically, Z-A
Date, new to old
Date, old to new
Wholesale H4-CBD Products Q & A
How is H4-CBD different from CBD?
H4-CBD and CBD are both cannabinoids derived from the hemp plant, but they differ in their molecular structure and potential effects on the body. While both are non-psychoactive, meaning they don't cause a "high," preliminary research suggests that H4-CBD has much more potent effects than those from CBD. However, more research is needed to fully understand these differences.
Is H4-CBD safe for all consumers?
H4-CBD is generally deemed safe for consumption, especially considering its non-psychoactive nature which means it doesn't produce the "high" associated with THC. However, it's important to understand that people can react differently to cannabinoids, and what works well for one individual might not have the same effect on another.
While anecdotal evidence and initial studies suggest that H4-CBD can be used safely by most adults, there are certain groups who should exercise caution. This includes individuals with existing medical conditions, those who are currently taking other medications, and pregnant or nursing women.
What are the minimum order quantities for wholesale H4-CBD products?
We have no minimum order requirement for our wholesale H4-CBD products. Please contact us directly for more information.
Can H4-CBD products be custom branded?
JM Wholesale offers H4-CBD white-labelling and private label services, which allow businesses to sell H4-CBD products under their own brand. Explore our whitelabelling services today.
Through these services, businesses can take advantage of the growing popularity of H4-CBD, offering their customers a product that has been tailored to their brand's specific identity and values. This not only opens up a new product line for businesses but also allows them to differentiate themselves in a competitive market.
What is the shelf-life of H4-CBD products?
The shelf-life of H4-CBD products can generally be expected to last between one to two years (12 to 24 months), although this can vary depending on various factors. This includes the specifics of the product formulation, the type of product, the packaging, and how the product is stored.
The formulation and type of the H4-CBD product can have a significant impact on its shelf-life. For instance, H4-CBD oils may have a different shelf-life compared to edibles or topicals due to the other ingredients involved and how they interact with the H4-CBD over time.
Storage conditions are also critical in determining the shelf-life of H4-CBD products. Generally, these products should be stored in a cool, dark place away from direct sunlight, as heat and light can degrade cannabinoids over time. Avoiding exposure to air as much as possible can also help to preserve the product, as oxygen can also contribute to degradation. This is why many H4-CBD products are packaged in airtight, opaque containers.
It's always recommended to check the product's packaging for any specific storage instructions and a best-by or expiry date. These will give you a more accurate understanding of the product's shelf-life and how to best maintain its quality and effectiveness. Even within its shelf-life, always check the product for any signs of spoilage or degradation, such as changes in color, smell, or consistency, before use.
How is H4-CBD extracted?
H4-CBD is created through a chemical process known as hydrogenation. Much like how margarine is made from vegetable oil, CBD undergoes a similar transformation to become H4-CBD.
In more technical terms, hydrogenation is the process of adding hydrogen atoms to a compound. When applied to CBD, this involves introducing hydrogen atoms into the CBD molecule. This process is facilitated by a catalyst, typically a metal such as palladium or nickel, which helps to drive the reaction. It's a method commonly used in organic chemistry to modify the structure and, subsequently, the properties of various compounds.
The hydrogenation process transforms the CBD molecule into a different compound, yielding H4-CBD as a result. This new compound has unique properties and effects that distinguish it from its parent molecule, CBD. This highlights the remarkable versatility of the cannabis plant, which can produce such a diverse array of cannabinoids, each with its own distinct set of properties.
Given the complex nature of the hydrogenation process, producing H4-CBD requires a good deal of expertise and precision. This process is typically carried out in a professional lab setting, under carefully controlled conditions, to ensure the production of a high-quality, safe, and effective product.
Is it possible for H4-CBD products to contain traces of THC?
While H4-CBD and THC are distinct compounds, it is indeed possible for H4-CBD products to contain trace amounts of THC. This is due to the extraction process from the cannabis plant, which may not entirely separate the two compounds. This is especially true if the extraction process isn't highly refined or if the source material contains a significant amount of THC.
However, manufacturers of H4-CBD products typically employ rigorous quality control measures to ensure the purity of their products. This often includes third-party lab testing, which provides an unbiased analysis of the product's composition. The test results, often made available to consumers, offer a detailed breakdown of cannabinoid content. Reputable companies will ensure that any THC content remains within legal limits, and these results are a good way to verify this.
Nevertheless, consumers should be aware of this possibility and consider it when purchasing and consuming H4-CBD products. It's always recommended to check lab reports and other product information to understand fully what you are purchasing. Ultimately, while the presence of THC in H4-CBD products is a possibility, it is typically minimized and controlled through careful extraction processes and rigorous testing.
When was H4-CBD discovered?
The story of H4-CBD starts in the 1940s when it was discovered by a team of cannabis researchers who were also responsible for the identification and synthesis of many other novel cannabinoids. At this point in history, the world was only just beginning to delve into the complex and varied world of cannabis, and this discovery marked a significant step in our understanding of this versatile plant.
These researchers were trailblazers in their field, taking the first steps into a world that was largely unknown. Their discovery of H4-CBD opened up a new avenue of research and potential therapeutic use. The original production method involved mixing CBD with a metal alloy in a process that, while effective, did not necessarily meet the safety and cleanliness standards we expect today.
Fast forward to the present day, and the production of H4-CBD has evolved significantly. Thanks to advances in technology and our increased understanding of cannabis and its constituents, H4-CBD is now produced using safer, cleaner manufacturing processes. This allows for a high-quality product that meets stringent safety standards while still delivering the unique effects that have made H4-CBD popular among users.
Despite being discovered several decades ago, it seems that H4-CBD is only now beginning to find its place in the market. As interest in and acceptance of cannabis and its derivatives continue to grow, there is an increasing demand for novel and unique cannabinoids like H4-CBD. It represents a new frontier in cannabinoid research and use, and its potential is only just beginning to be explored.
What are people's experiences like with H4-CBD?
Many people post their experiences with H4-CBD on sites like Reddit or Facebook. Anecdotally, people seem to find that H4-CBD provides a unique type of stimulation, similar to the effect of caffeine without the jitteriness, and subtly enhanced with a low, non-intoxicating dose of THC-like effects. This potentially makes it particularly appealing to those seeking a productive, yet unimpaired, state of euphoria. Many users note the compound's propensity for inducing a relaxed, almost "silly" demeanor, while not impairing cognitive or physical functions like certain other cannabinoids can.
Many have mentioned experimenting with H4-CBD as part of a blend with other cannabinoids, such as THCV and CBDV, to create stimulating mixtures on par with high-caffeine days. This versatility, combined with its unique effects, seems to make H4-CBD an attractive component in the exploration of cannabinoid-based stimulants.
From a consumption perspective, people report a relatively quick onset of effects, with a sensation of spaciness or a heady high sometimes noted. It's reported to be quite potent, with effects persisting for a considerable amount of time. For some, the experience seems to extend over several hours, leading to significant relaxation, with reported intense muscle relaxation, positive thoughts, and a sense of elation being highlighted by any users.
The taste of H4-CBD has been described as less than pleasant, with some likening it to a spicy terpene-like flavor. Despite this, the overall consensus seems to be that the compound's benefits outweigh any taste concerns.
A point of interest is the potential application of H4-CBD for those taking tolerance breaks from other cannabinoids. Some individuals have found it to provide a satisfactory alternative, reducing cravings for THC and other similar substances, and even contributing to a reduction in tolerance. The overall experience of H4-CBD seems to be one of enjoyment, relaxation, and satisfaction, with a promise of exploring its potential further.
View more
Is H4CBD legal in the UK?
In the United Kingdom, two key pieces of legislation govern the legality of substances like cannabinoids: the Misuse of Drugs Act 1971 and the Psychoactive Substances Act 2016.
The Misuse of Drugs Act 1971 classifies substances into three categories, namely Class A, B, and C, based on their potential harm and misuse. Most cannabinoids, including THC, fall under Class B, making them controlled substances.
On the other hand, the Psychoactive Substances Act 2016 was designed to combat the issue of 'legal highs', substances that produce similar effects to illegal drugs but were not covered by the Misuse of Drugs Act. It broadly prohibits the production, supply, and importation of any substance capable of producing a psychoactive effect.
However, H4-CBD finds itself in a unique position within the scope of these laws due to its non-psychoactive nature. It is not affected by the Misuse of Drugs Act, nor is it considered a 'legal high' under the Psychoactive Substances Act. This means that H4-CBD falls outside the remit of both these laws and is therefore legal in the UK.
While H4-CBD is currently legal in the UK, it's important to remember that the cannabinoid industry is under constant scrutiny and regulation changes can occur. Check in regularly as we provide you with the latest news regarding cannabis laws.
Products like H4-CBD flower are still be illegal in the UK, as they contain controlled parts of the hemp plant, which are prohibited regardless of THC content.
View more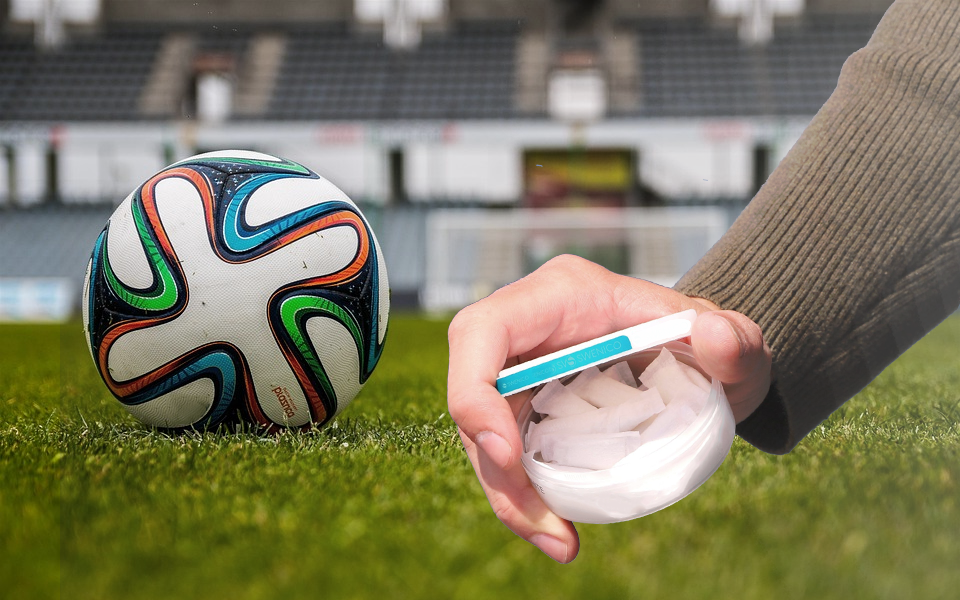 December 05, 2023
There's a new trend sweeping across the footballing world, and it has nothing to do with innovative tactics or ground-breaking training regimes. This trend is...