Wholesale CBD Cartridges
Buy Bulk CBD Cartridges & Refills UK
The CBD cartridges provided at JM Wholesale promise your dropshipping customers convenience, flavour and optimal cloud volume. When choosing one of our many CBD vapes, you can opt for a tank or a pen / cart as a more convenient way to vape.  
When using a CBD pen, simply screw or snap on a cartridge and puff away. JM Wholesale carries pre-filled CBD vapes cartridges in a variety of flavours and servings, from bubble gum to sour diesel. Many of our carts are 510 thread and are universally compatible with CBD vapes with a 510 battery connection, which is the most common type of vape pen available.
CBD has never been so popular, with increasing numbers taking up this fantastic natural compound to help alleviate all manner of health problems. CBD is used to treat migraines and headaches, muscular and nerve pain, epilepsy, mental health conditions like depression and anxiety, as well as a range of skin conditions. While it is still undergoing much research, CBD consistently shows in study after study that it is reliable, safe, useful and easy on the body. Many people now use CBD as an alternative to western medicine to treat common conditions and more people are turning to it when other options fail. It is expected that the CBD market will continue to grow over the next decade or two. We are therefore proud to be one of the leading CBD distributors, helping you to dropship from the UK with confidence and high customer satisfaction. 
CBD can come in many forms, including CBD gummies sweets, a CBD drink, a CBD lollipop, capsules, sprays and much more. But if you are considering selling CBD wholesale, we recommend CBD vapes and associated cartridges as a priority. 
Featured
Featured
Best Selling
Price, low to high
Price, high to low
Alphabetically, A-Z
Alphabetically, Z-A
Date, new to old
Date, old to new
Wholesale CBD Cartridges Q & A
What is a CBD cartridge?
A CBD cartridge is a cartridge that can be used in vaping kits. The cartridge is full of CBD e-liquid in a variety of flavours and strengths. Each CBD cartridge has its own unique features, and here at JM Wholesale, each is third party lab tested for safety.
What is the CBD Cartridge used for?
CBD cartridges are used in vaping. When you vape CBD e-liquid, you are inhaling CBD through the mouthpiece so that you can experience an immediate hit of CBD. You then dispose of the cartridge once it is used up.
What is CBD?
CBD is a compound found in the cannabis plant, specifically the leaves. The compound is extracted through a press and used to make CBD oil. There are different types of CBD oil, all with their own unique properties. For example, some CBD also contains other elements of the cannabis plant, which is said to have more medicinal effects on the body. CBD is legal and considered safe. In fact, it has been used for hundreds of years to help with ailments like skin conditions and chronic pain. You can get CBD in many different forms, including capsules and creams.
What dose of CBD should you choose?
CBD comes in different doses. When you purchase a CBD cartridge you will notice it has a Mg dose on the packet. For example, 500mg or 1500mg. This indicates how much CBD is in the product. However, this doesn't tell you how much CBD you will get per puff, as this will depend on the cartridge size. Compare the size of the cartridge to the CBD quantity to determine how potent each puff will be. As a general rule of thumb, you should start out with CBD low and slow and build up until you find a dose that is right for you. Everyone is different, and everyone uses CBD for a different reason, so there is no set dose to start on.
Are there different flavours?
Yes, CBD cartridges comes in a range of flavours including strawberry lemonade, mimosa, grape and banana. You can also get natural flavours that enhance the natural taste of CBD.
What does full spectrum mean?
Full spectrum refers to a type of CBD. It means that more of the cannabis plant has been used when cultivating the CBD. This doesn't make it illegal and it won't contain enough THC to make you stoned. But it does have more medicinal effects and tends to be handy for people who suffer with ailments like chronic pain.
What does CBD Isolate mean?
CBD isolate means that just CBD is contained in the product, rather than other elements of the cannabis plant. Some people prefer this type of CBD, and it is often more affordable than full spectrum.
What is a disposable cartridge?
As expected, a disposable cartridge means you dispose of it after use and that it cannot be refilled or used again.
View more
CBD Cartridges
Diversify your selection of CBD cartridges with the enormous range offered by JM Wholesale. Choose from single or dual kits and a myriad of fresh tastes and puff potential.
Go 'au naturale' with CBDistillery, whose cartridges are loaded with 100% natural flavours. Up the ante with Aztec CBD's intense, full-spectrum, zero additive carts. If wellness is your brand, then check out Canniant CBD's range of health-focused vape cartridges.
Here are some customer favourites:
CBDistillery 200mg CBD Vape Cartridges: CBDistillery uses plant terpene extracts and 100% natural flavours in their cartridges, so every puff you take is authentic and fresh. Each cartridge has a 510 thread, which is the most common fitment and is 0.5ml containing 200mg of CBD. This works out as 400mg/ml. A popular available flavour is strawberry lemonade which is almost always a crowd pleaser.
CALI CARTS DOPE 500mg CBD Vape Cartridges: Each Cali Carts Dope contains 500mg of CBD inside a 1ml sized cartridge, which is enough to satisfy even the most experienced of vapers. Each Cali Carts Dope flavours are derived from a broad-spectrum hemp extract with a terpene infused blend to create unique tasting flavours. You can choose from 5 highly interesting flavours including Northern Lights.
CBDiablo 700mg CBD Full Spectrum CBD Vape/Dab Cartridge: This is one of the most popular CBD vapes we have right now. Thanks to its design, the CBD Diablos pen makes it one of the most powerful CBD vapes on the UK market right now. The glass cartridge increases the air flow producing a larger cloud, a huge dose of cannabinoids and pure terpy flavour – almost like a 'dab'. This cartridge contains full spectrum CBD, with less than 0.1% THC making it safe and legal. It has been properly lab tested as you would expect from any JM Wholesale product. Flavours include Mimosa and Wedding Cake.
CBD Tiger Full-Spectrum 350mg CBD Disposable Cartridge: The Tiger CBD Disposable Cartridge contains 350mg CBD, which is full spectrum for more medicinal effects. It is one of the highest potencies and lab tested flow-form CBD vapes in the UK. This also includes other cannabinoids including CBG, CBDV, CBN, CBC which helps improve health and wellness. CBD flow-form is not like normal CBD distillate, as it is of high quality and full spectrum. This product is also resistant to crystallising and is free from any cutting agents, pesticides, heavy metals or herbicides - making it pure, safe and easy to use. Each of CBD Tiger's carts arrive pre-filled and ready to go. Flavours include Banana Tiger and Grape Krush.
Best CBD Cartridge Flavours for Your Customers
If you are dropshipping from the UK, you will want to know the best flavours you should be selling. Selling CBD wholesale requires a little bit of prior knowledge so that you can provide the very best service.
Lemon Haze: Zesty, refreshing and pure, this awesome flavour is offered by a number of cartridges, including Purple Dabz.
Strawberry Diesel: Strong, powerful, potent and surprisingly sweet, this gorgeous flavour is popular amongst all vapers. Available from Cali Carts.
Pineapple Express: Juicy, sweet and a little bit sharp, this amazing flavour can be found in the Tiger range and Aztec.
Ice Mint: Want fresher breath after a CBD hit? Try the ice mint flavour by Aztec.
Lavender and Vanilla: Especially popular with our female customers, this sophisticated combination is both floral and fruity, with a hint of the sweetness of vanilla as an aftertaste. Available by CBDistillery UK.
Strawberry Lemonade: Also offered by CBDistillery UK, this popular flavour is both tangy and fruity with a hint of lemon as an aftertaste.
CBD Safety
We take customer safety seriously. Let your customers know exactly what they're getting with every puff. We only carry brands with safe, compliant, and lab-tested products. That means the liquids fall below the legally mandated 0.2% THC limit. Certificates of Analysis and Lab Testing are available so you can buy with peace of mind, knowing the cartridges contain the advertised amount of CBD. If any of your customers have questions, we welcome you to get in touch with us and one of our team will provide you with all the information you need.
View more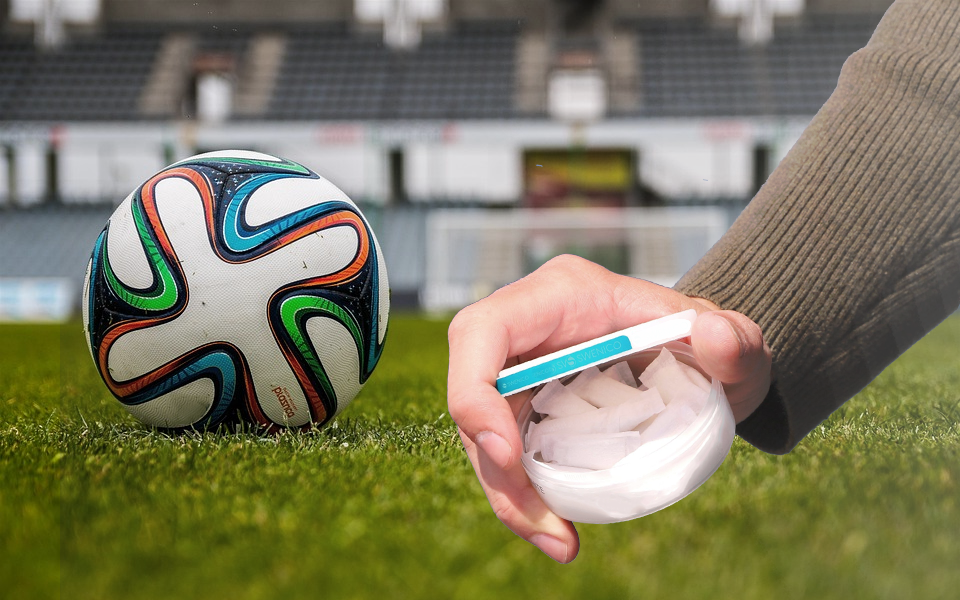 December 05, 2023
There's a new trend sweeping across the footballing world, and it has nothing to do with innovative tactics or ground-breaking training regimes. This trend is...