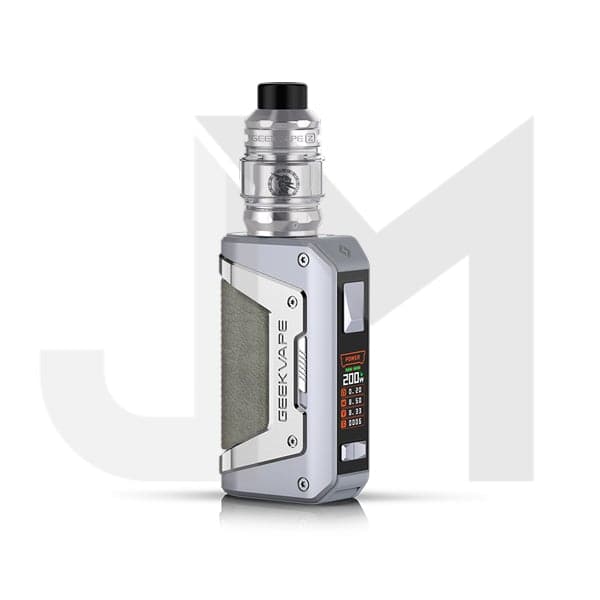 View Larger
Discover the power of a true vaping champion with the Geekvape L200 Kit. Compact and feather-light, this mod device steps forward with undeniable self-confidence and a reputation for quality. With the L200, Geekvape introduces the second generation of its acclaimed Tri-proof Technology, offering even greater resilience and durability to endure life's everyday challenges.
A standout feature of the L200 is its A-Lock, a revolutionary safety mechanism designed to prevent any accidental triggering of the device when stored away. This clever feature provides peace of mind and ensures the longevity of your device.
The L200 is a proud member of the Aegis Design lineage, and the second generation doesn't disappoint. The mod comes equipped with a vibrant, easy-to-read 1.08-inch full-screen display, giving you all your vaping information at a glance. Charging the L200 is a breeze, thanks to its Type-C port, elegantly hidden behind a flipping cover to maintain the sleek aesthetics of the device.
To top it all off, the L200 is partnered with Geekvape's Z Sub-ohm 2021 Tank, an impressive piece of vaping hardware in its own right. This tank is designed to increase air inflow dramatically, resulting in a smoother, richer, and more powerful vape that really brings your chosen e-liquid flavours to life.
The Geekvape L200 measures 140.05 x 54.12 x 29.00mm and boasts an impressive output power range of 5W to 200W. It can handle atomizer resistance from 0.1 to 3 Ohms, making it versatile enough for most vapers. The L200 runs on two external 18650 batteries, providing plenty of vaping time.
The kit includes the L200 Mod, Z Sub-ohm 2021 Tank (2ml), two Geekvape Z Series Coils, a coil tool, a spare parts pack, a spare 2ml glass tube, and a Type-C USB charging cable. The Geekvape L200 is more than just a vape mod; it's a statement of style and reliability.

Specifications:
- Size: 140.05 x 54.12 x 29.00mm
- Output Power: 5W~200W
- Maximum Output Current: 45A
- Maximum Output Voltage: 12V
- Power Display: Battery Icon On The Screen
- Charging Port: Type-C Port
- Resistance Of Atomizer: 0.1 Ohm - 3 Ohm
- Battery Specification: 7.4V, External Double Battery 18650
- Display Screen: 1.08 Inch, TFT Colour Screen
- Operating Temperature: 0℃~45℃
- Storage Temperature: -20℃~60℃
- Relative Humidity: 45%RH~75%RH

Box Comes With:
- 1 x Mod
- 1 x Atomizer (2ml)
- 2 x Geekvape Z Series Coil (Pre-installed: 0.2Ω 70~80W, Spare coil: 0.25Ω 45~57W)
- 1 x Coil Tool
- 1 x Spare Parts Pack
- 1 x Spare Glass Tube (2ml)
- 1 x USB Cable (Type-C)