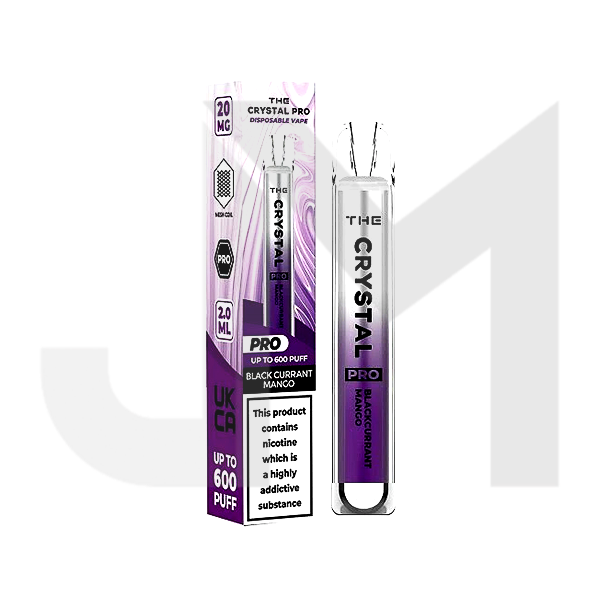 View Larger
20mg The Crystal Pro Disposable Vape Device 600 Puffs
SALE OR RETURN GUARANTEE available for this product!
Return within 120 days if unsold (see terms)
The Crystal Pro's sleek and compact device combines advanced technology with a design that's as aesthetically pleasing as it is functional, setting the bar for disposable vape devices.
Fitting comfortably in the palm of your hand, the Crystal Pro is a testament to superior engineering and a commitment to convenience and quality. The sleek casing houses a robust 550mAh battery, providing long-lasting power that can deliver up to approximately 600 puffs of your chosen e-liquid. This longevity means you can enjoy the full-bodied flavours and consistent vapour production that the Crystal Pro offers, anytime, anywhere.
A standout feature of the Crystal Pro is the integrated mesh coil, a technology that enhances flavour production and ensures a satisfying vape experience. The mesh coil allows for better heating and distribution, ensuring that each puff you take is as enjoyable as the last.
The Crystal Pro also offers Inhale Activation, a simple and intuitive feature that makes vaping a breeze. Simply inhale to activate the device, and puff away to enjoy the nuanced flavours and satisfying vapour clouds. There's no need to press any buttons or adjust any settings; the Crystal Pro offers a straightforward, immersive vaping experience.
When your Crystal Pro device is depleted, disposal is simple and straightforward. There's no need for maintenance, charging, or refilling – the Crystal Pro epitomises convenience. This feature makes it an ideal choice for those new to vaping or experienced vapers looking for a hassle-free secondary device.
Each Crystal Pro Disposable Vape Device comes pre-filled with 2.0ml of high-quality 20mg Nicotine Salt (2%) E-Liquid. This smooth and robust nicotine strength is perfect for satisfying your cravings. Choose from an array of carefully crafted flavours including Red Ice, Watermelon Ice, Blackcurrant Mango, Blue Sour Raspberry, and many more. Each flavour is a journey, a unique vaping experience waiting to be discovered.
In terms of compliance, you can rest assured knowing that the Crystal Pro is TPD compliant, adhering to all the necessary health and safety regulations.
In essence, the Crystal Pro Disposable Vape Device offers an elite vaping experience in a convenient, compact package. It combines powerful battery life, high-quality nicotine salt e-liquid, cutting-edge mesh coil technology, and a host of flavours to choose from. This makes it an ideal choice for anyone seeking to enhance their vaping experience. With the Crystal Pro, you're not just vaping – you're enjoying a celebration of flavour and technology in every puff.
20mg Nicotine Salt (2%) E-Liquid
Capacity: 2.0ml
Puffs: Up to 600 Puffs
Battery: 550mAh (Built-In)
Pro Technology
Mesh Coil
Inhale Activation
No Maintenance, Charging or Refilling Required
Compact, Light, & Portable
TPD Complaint
Flavours:

Blueberry Cherry Cranberry
Blueberry Raspberry Cherry