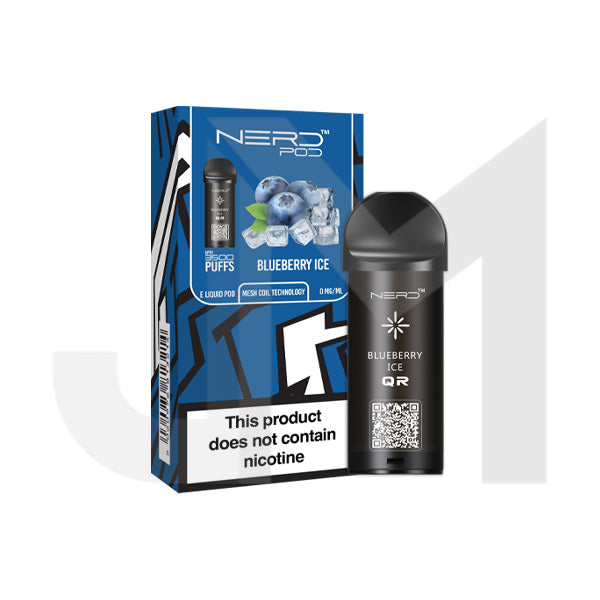 View Larger
Experience an unmatched vaping journey with the 0mg Nerd Pod Replacement Pod, boasting up to 3500 puffs to last you days of immersive enjoyment. Crafted especially for the Nerd Pod 3500 Device, these pods ensure effortless interchangeability and compatibility, simplifying your vaping lifestyle. Select from an array of your favourite flavours and immerse yourself in a lasting vaping experience that transcends the ordinary.
Each pod is a testament to superior craftsmanship, brought to life in the UK. They house 0mg nicotine salt, representing a 0% nicotine strength, making them ideal for starter users. The pods come with an impressive 8ml capacity, filled with the E-liquid of your choice, thus giving you an abundant supply for extended vaping sessions. With the inclusion of innovative Mesh Coil Technology, each puff promises a smooth, flavourful experience, every time.
One of the key attributes of these replacement pods is the maintenance-free design, offering you a hassle-free vaping experience. Additionally, rest assured of its compliance with TPD regulations, further enhancing its safety quotient.
The box includes one Nerd E-liquid Pod, accompanied by a user manual that guides you through the process, ensuring a seamless and convenient set-up.
Unleash an explosion of flavour with a range of options like Blueberry Ice, Blackcurrant Lemonade, Blueberry Raspberry, Blueberry Pomegranate, Blue Razz Lemonade, and many more. Each variant is thoughtfully designed to capture the essence of its ingredients, delivering a refreshing and invigorating experience with every puff.
From the tantalizing sweetness of Fuji Apple and Mango Ice to the rejuvenating coolness of Grape Ice and Watermelon Ice, there is a flavour to cater to every palate. For those seeking a burst of freshness, the Fresh Mint variant offers a powerful, perfectly balanced mint flavour. For an energy kick, look no further than NRG Bull, encapsulating the essence of your favourite energy drink in a vape.
Made In The UK
0mg Nicotine Salt (0%) E-liquid
Pod Capacity: 8ml
Puffs: Up to 3500 Puffs
Mesh Coil Technology
Ideal For Starter Users
No Maintenance Needed
TPD Compliant
Box Contains:

1 x Nerd E-liquid Pod
1 x User Manual
Flavours:
Blueberry Ice
Mouth watering fresh blueberries.

Blackcurrant Lemonade
An explosion of flavour with fresh berries and lemonade.

Blueberry Raspberry
Mouth watering sweet blueberries combined with sour raspberry.

Blueberry Pomegranate
A mouth watering mix of the freshest blueberries and pomegranate.

Blue Razz Lemonade
An explosion of flavour with blueberries, raspberries and lemonade.

Cherry
Fresh cherry captures the juicy fruity flavour.

Cherry Cola
A combination of fresh cherries and sweet cola.

Cola Ice
Cola with ice please. Soda-licious.

Cherry Raspberry
A combination of fresh cherries and sweet raspberries.

Energy Strawberry
Ripe strawberries with your favourite energy drink flavour.

Fresh Mint
A real blast of fresh mint flavour. The mint is powerful and the low menthol is kept at a perfect balance.

Fuji Apple
Sweet red rosy Fuji apple flavour.

Grape Ice
Rich sweet vine ripened grapes with an icy finish.

Kiwi Passionfruit Guava
A sweet blend of exotic pink guava mixed with kiwi and passion fruit.

Mad Blue
A juicy blend of sweet berries, featuring Raspberry, Blueberry & Blackberry notes.

Mango Ice
Experience a taste of the tropics with fresh mango with an ice finish.

NRG Bull
Your favourite energy drink flavour. Powerfully sweet and refreshing.

Passion Fruit
Provides an exotic passion fruit flavour in every puff.

Pink Grapefruit
Enjoy the delicious taste of sweet and sour Grapefruit.

Pink Lemonade
Lemonade flavour with hints of sweet grapefruit.

Strawberry
Experience summer sensation with handpicked strawberries.

Sour Blue Raspberry
Mouth watering sweet blueberries combined with sour raspberry.

Strawberry Raspberry Cherry
A combination of fresh cherries, sweet raspberries and juicy strawberries.

Watermelon Bubblegum
A fun and fresh flavour with sweet watermelon and bubblegum.

Watermelon Ice
A blend of sweet and juicy watermelon with a cooling ice finish.