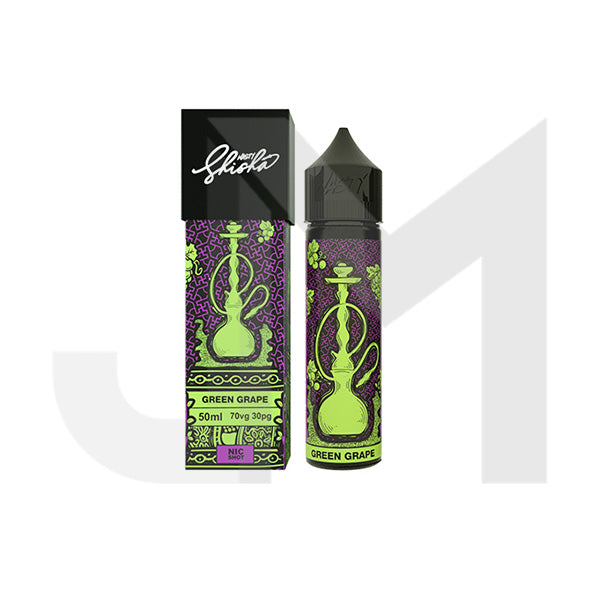 View Larger
Shisha By Nasty Juice 50ml Shortfill 0mg (70VG/30PG)
Bringing flavours that are truly lush to experience as if you are puff them through a premium quality shisha, these Nasty Juice Shisha Series 50ml Shortfills will more than fulfil that need. With four exquisite flavours to choose from, your next vaping experience will be a memorable one without having to pull out an actual shisha.

With the e-liquids at a high VG ratio, the Nasty Juice Shisha Series will work best with Sub-Ohm vaping kits and pods where you'll experience thick, flavourful clouds of vapours with an overall smooth sensation that avoids giving your throat a harsh hit after puffing away. Ex-smokers can also add a single nicotine shot into their flavour of choice to successfully fulfil their cravings without having to pick up an actual cigarette.

- Made in Malaysia

- 0mg Nicotine Strength

- 50ml E-Liquid Content in a 60ml Shortfill Bottle

- Space for 1 x 10ml Nicotine shot

- 70VG/30PG

- Designed for Sub Ohm Vaping

- Childproof Cap & Tamper Evident Seal

- Recyclable Bottle

- TPD Complaint

Flavours:
Double Apple
Imagine biting a flavourful red apple. Double the bite with a hint of sour, but with a beautifully juicy green apple. A perfect mix has proven in the history of shisha.

Grape Raspberry
Ripe grapes were chosen to get the fruity and earthy taste, mixed with fresh sweet raspberry. Together they are like libra, a perfect balance of sweet and freshness.

Green Grape
Crisp and sweet flavour. The combination of crisp texture with a pop of sweetness has made this a tasty addition to our shisha recipes.

Lemon Mint
Juicy citrusy lemon feels, the classic sour lemonade combined with a bit of sweet minty cold sensation. A perfect balance of mint and lemon.