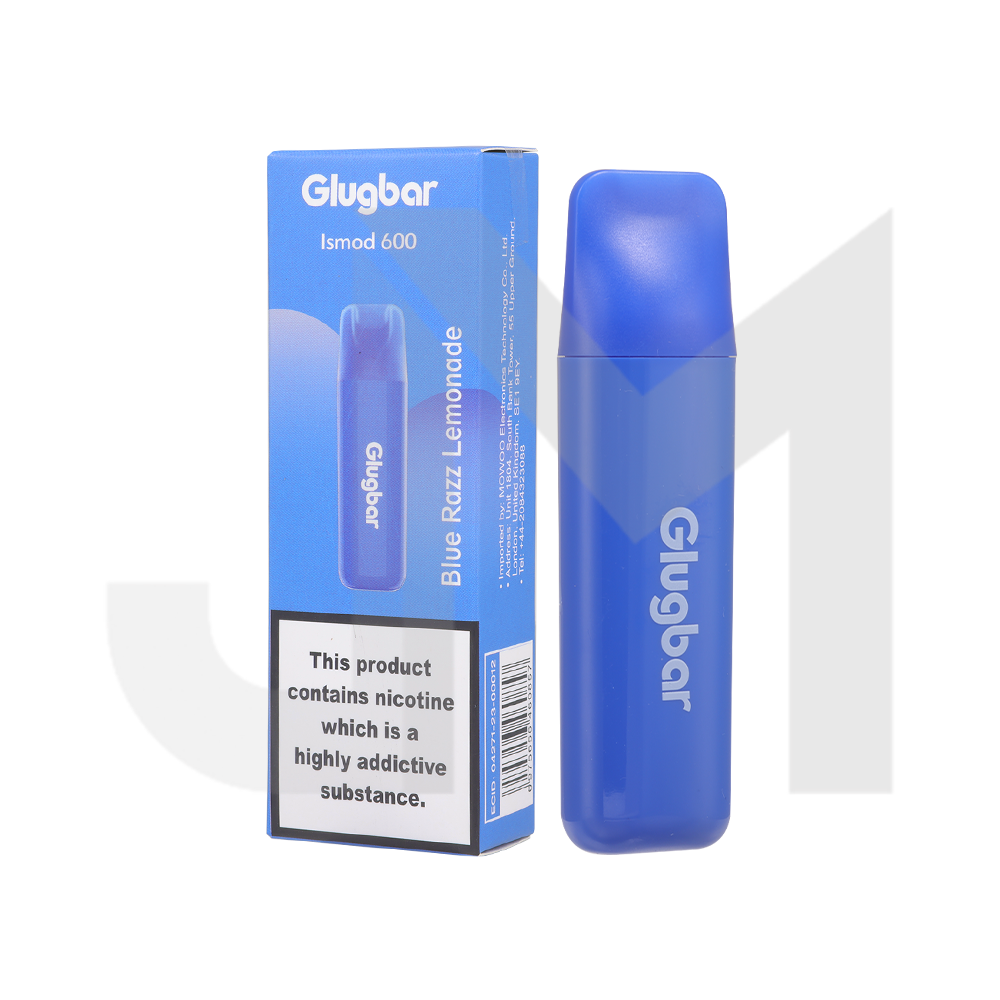 View Larger
Glugbar's Ismod 600 vape device packs a punch in a tiny package. The small and compact design means it slips easily into your pocket, yet delivers up to 600 puffs thanks to the built-in 400mAh battery and 2.0ml e-liquid capacity. The 20mg nicotine salt and 2% nicotine level provide a satisfying hit, while the unique design and good airflow system ensure a smooth vape experience every time. An ideal discreet device for the on-the-go vaper seeking convenience.
20mg Nicotine Salt (2%) E-Liquid
Capacity: 2.0ml
Puffs: Up to 600
Nicotine Per Puff: 66mcg
Battery: 400mAh (Built-in)
Draw Activation
Ready to Use
No Refills & Charging
Portable & Lightweight Design
TPD Complaint
Flavours:
Blue Razz Lemonade: The primary flavour is dominated by blueberries, complimented by notes of raspberry while encapsulated in a berry flavour.
Cherry Cola: The cherry is prominent in the top end, followed by sweet hints of cola countered by the sourness of cherry.
Cotton Candy Ice: The marshmallow flavours contain a little bit of fruity notes, and the overall fusion is a combination of candy and fruit.
Grape: The grapes and purple grapes are blended together, while the grape juice is prominent in all aspects of the flavour. 
Mint: The perfect combination of spearmint and peppermint, giving the overall refreshing mint aroma and cooling sensation.
Orange Mango Guava: The top note shows an orange aroma, the middle flavour profile is mango, and the guava offers a light fresh balance to the fruity notes.
Peach Ice: The peach aroma explodes in the top note, and the icy tones perfectly complement the fruity juice core tones of the flavour
Pink Lemonade: Offers a primary flavour of a fresh lemon aroma, slightly blended with strawberry and berries.
Strawberry Lemon: The sweet notes of strawberry with an undertone of the rich profile of lemons offer a solid counterbalance to this intense combination. 
Watermelon Ice: The overall aroma is that of watermelon, with a slight hint of melon rind, while the full and juicy texture of watermelon helps support this flavour profile.