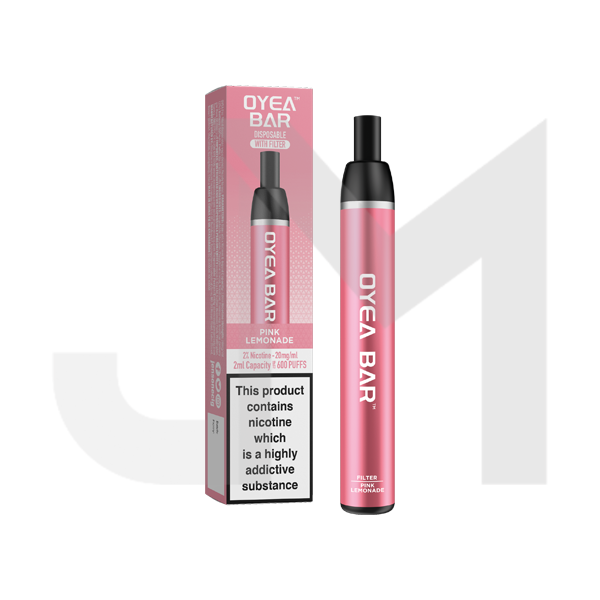 View Larger
Step into the world of stylish vaping with the 20mg Oyea Bar Disposable Vape Device. This device is much more than just a simple vaping tool - it's an embodiment of modern design and functionality. Featuring a matte surface treatment and a chic, slim profile, this disposable vape bar adds a touch of sophistication to your vaping experience.
At its core, the Oyea Bar Disposable Vape Device is crafted with a stainless steel body, ensuring its resilience and longevity. This sleek and robust construction is coupled with a leakage-proof design that provides users with the comfort and confidence of a seamless vape. There's no need to worry about spillages or leaks, leaving you to focus solely on the pleasure of the flavours on offer.
With up to 10 different flavours available, each Oyea Bar allows for an exploration of sensory delights. Whether you're a lover of classic tobacco or drawn to the allure of sweet fruit concoctions, there's a flavour to cater to your preference. Each vape bar is pre-filled with 2.0ml of 20mg nicotine salt e-liquid, promising a satisfying experience for both experienced vapers and those transitioning from traditional smoking.
Powering this disposable vape device is a built-in 550mAh battery, designed to deliver up to 600 puffs. This reliable power source ensures you have a consistent vaping experience, whether you're on-the-go or relaxing at home. As an additional feature, an LED light at the base of the device illuminates with each puff, creating a visually appealing and engaging vaping experience.
When your Oyea Bar Disposable Vape Device has been fully utilised, disposal is simple and straightforward. This device requires no refilling or recharging, simplifying the vaping process and making it an ideal choice for those seeking an uncomplicated and convenient vape solution.
Each box contains one 20mg Oyea Bar Disposable Vape Device. Ready-to-use right out of the box, it offers a seamless transition into the world of vaping. Lightweight, portable and ergonomically designed, the Oyea Bar epitomises the future of vaping, balancing style, functionality and a top-notch vaping experience.
Specifications:

Material: Stainless Steel
20mg Nicotine Salt (2%) E-Liquid
Capacity: 2.0ml
Puffs: Up to 600 Puffs
Battery: 550mAh (Built-In)
LED Light
Leakage Proof
Draw Activation
Ready to Use
No Refills & Charging
Portable & Lightweight Design
Box Contains:

1 x 20mg Oyea Bar Disposable Vape Device
Flavours: