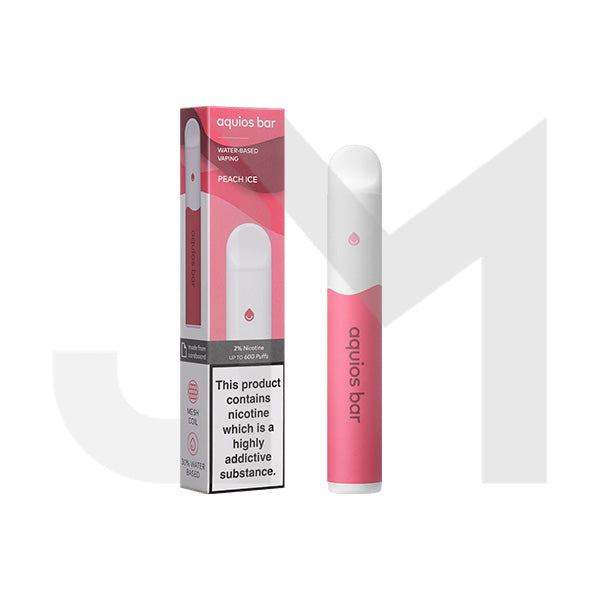 View Larger
Presenting the Aquios Bar: The Groundbreaking Water-Based Disposable Vape
Unveil Aquios Bar, the world's leading water-based disposable vape, featuring Aquios' pioneering patented technology. Witness the future generation of vaping, where sustainability converges with gratification.
Showcasing an impressive 20mg nicotine potency, Aquios Bar guarantees an unmatched vaping encounter, highlighting cleaner flavours, smoother vapour, and swift satisfaction. Unlike conventional disposables, this state-of-the-art device houses a formidable 500mAh battery, providing approximately 600 draws of pleasure for each captivating flavour variant.
Embrace the distinction with Aquios Bar's cooler vapour delivery, promoting a more invigorating vaping experience whilst minimising hydration concerns. Boasting an unprecedented water based disposable, Aquios Bar redefines the vaping panorama.
At Aquios, the unswerving commitment to a greener future stands firm. Aquios Bar establishes new benchmarks by being fashioned from 95% consumer-recyclable materials, primarily utilising sustainable paper body components. Departing from conventional disposables, this eco-conscious choice harmonises with Aquios' mission to curtail environmental impact.
As your Aquios Bar completes its journey, take solace in the knowledge that it can be responsibly discarded through recycling bins or bags. Join the endeavour to shape a sustainable tomorrow while savouring the pinnacle of disposable vape technology — Aquios Bar, where innovation converges with recyclability.
Specifications:

20mg Nicotine Salt (2%) E-Liquid
E-Liquid Capacity: 2.0ml
Puffs: Up To 600 Puffs
Battery: 500mAh (Built-in)
Water Based
Body Material: Paper
Mesh Coil
Smoother Vapour & Natural Flavours
Reduced Dehydration & Harm
Draw Activation
No Refills & Charging
Portable & Lightweight Design
Recyclable Packaging & Device
Box Contains:

1 x Aquios Bar Disposable Vaping Device
Flavours:
Blueberry Ice
Sweet candy-style blueberry with a mellow icy finish.

Banana Mango Ice
Authentic mango paired with ripe banana and a moderate icy finish.

Mango Passion Ice
Authentic mango paired with sweet passionfruit and a moderate icy finish.

Tropical Fruit Ice
A blend of light tropical fruits with hints of citrus and a mellow icy finish.

AQBull Ice
A mystery blend of sweet and sour fruits with a mellow icy finish.

Sour Apple
Sour green candy apple with a subtle icy finish.

Peach Ice
Super realistic peach, with a juicy mouthfeel and light icy finish.

Watermelon Ice
Sweet candy-style watermelon with a moderate icy finish.

Blueberry Bubblegum Ice
Sweet bubblegum with hints of blueberry and mixed berries, with a moderate icy finish.

Grape Ice
Sweet and sour candy grape with a moderate icy finish.

Cherry Lemonade: Are you ready to experience true nostalgia? Cherry Lemonade combines our best-selling home-style lemonade profile with a bright candy cherry note. The perfect balance of sweet and sour.
Classic Tobacco:  Classic Tobacco is a testament to the complexity of tobacco flavours. Dark and mild tobaccos are expertly blended with a subtle smoky finish to create a deep, authentic tobacco experience.
Lemon Tart: Indulge in the delectable taste of a buttery pastry crust filled with tangy lemon curd, offering a balanced blend of sweetness and citrus. 
Pink Lemonade: This light and bubbly Pink Lemonade cocktail is a refreshing classic! This authentic home-style lemonade is paired with a light, sweet strawberry note to create a delicate but complex vaping experience.
Sour Berries: Sour Berries delivers a true taste of the forest. Tangy, bold raspberry combines with the soft sweetness of blueberry to create a full-flavoured and authentic berry medley.
Strawberry Watermelon: Enjoy the sweet and vibrant taste of summer with Strawberry Watermelon. Authentic juicy strawberry comes together with a tart, candy-style watermelon to create a simple but utterly refreshing fruit profile.
Vanilla Custard: A true taste of classic vanilla custard. Madagascan vanilla is paired with a rich creamy base, and a drizzle of sweet caramel, resulting in a timeless and elegant dessert profile.