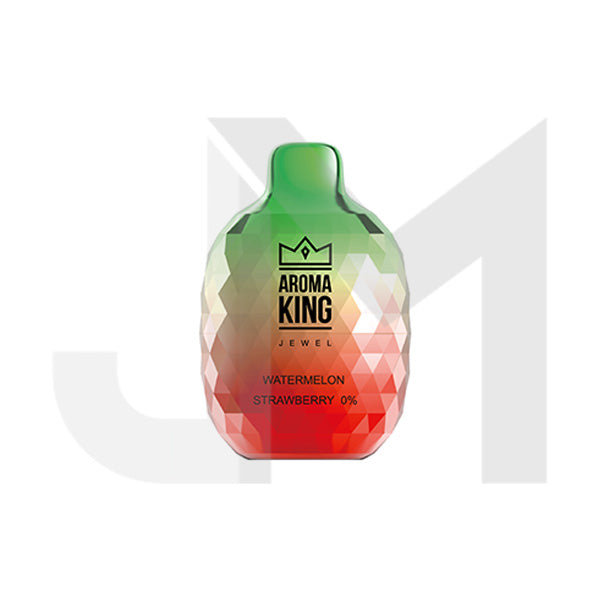 View Larger
0mg Aroma King Jewel Disposable Vape Device 8000 Puffs
Crafted with meticulous attention to user health and enjoyment, the Aroma King Jewel Disposable Vape Device is a beacon of indulgence in the vaping world. Offering a vibrant bouquet of fifteen natural flavours, the Aroma King Jewel is designed to deliver a clean, safe and refreshing vaping experience, utterly devoid of any unpleasant tobacco odours.
From the moment you unpack your device, it stands ready for immediate use, embodying the ultimate in convenience. Housed within its sleek and stylish design, a powerful 650mAh rechargeable battery works in unison with 15ml of nicotine-free salt e-liquid. This harmonious pairing ensures that each Aroma King Jewel disposable device can deliver up to an impressive 8000 puffs.
Engineered for simplicity, the Aroma King Jewel features no buttons or switches. Instead, it utilises a sophisticated draw activation firing mechanism, complimented by an adjustable air feature, ensuring a tailored vaping experience to suit your unique taste.
Proudly made in Poland, this device is characterised by its adherence to quality and compliance. With 0mg Nicotine Salt (0%) E-Liquid, a substantial 15.0ml capacity, and a built-in 650mAh rechargeable battery, it delivers on both performance and reliability. It further boasts of leakproof construction and the use of innovative Mesh Coil Technology.
The Aroma King Jewel Disposable Vape Device is not only convenient but is also an epitome of style, designed with a sleek silhouette that's ready to use straight out of the box. This non-refillable device offers a seamless vaping experience, fully compliant with TPD regulations.

Once the Aroma King Jewel Disposable Vape Device is depleted, you can simply and safely dispose of it.
Made In Poland
0mg Nicotine Salt (0%) E-Liquid
Capacity: 15.0ml
Puffs: Up To 8000 puffs
Battery: 650mAh (Built-In, Rechargeable)
Draw Activated
Mesh Coil Technology
Leakproof
Air Adjustable
Ready To Use
Convenient & Stylish Design
Non-Refillable
TPD Compliant
Box Contains:

1 x Aroma King Jewel Disposable Vape Device
Flavours:

Blueberry Mint Passionfruit