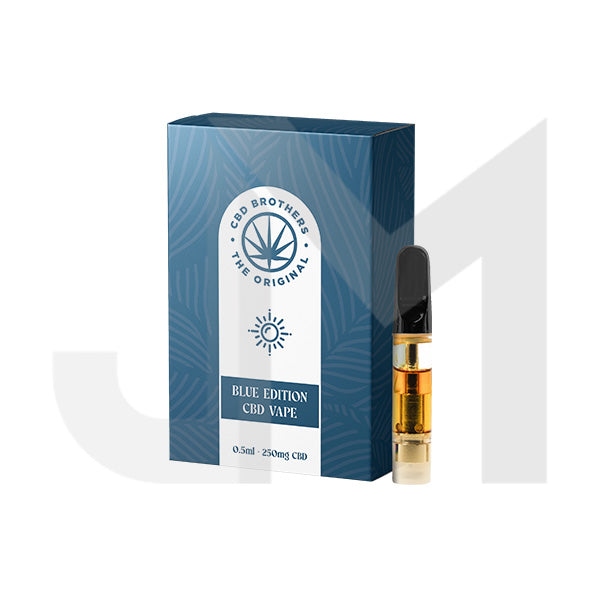 View Larger
CBD Brothers 250mg Vape Cartridges - 0.5ml
Green Edition Vape
Flavoured with green apple, this edition boasts the introduction of natural terpenes Beta-Caryophyllene, Humulene and Alpha-Pinene. The subtle flavour combined with the terpenes is far more refined and not overbearing as some vapes can be. These terpenes used in conjunction with our high strength CBD is a guaranteed winning combination.

Ingredients
Broad Spectrum CBD Distillate
Natural Green Apple Flavouring (Natural flavouring, Monopropylene Glycol)
Natural Terpenes (Beta-Caryophyllene, Humelene, Alpha Pinene)

Purple Edition Vape
A tasty grape flavoured Purple Edition vape. The high strength CBD vape formula is enhanced with the addition of Beta-Caryophyllene, Myrcene, Humelene and Limonene. The inclusion of the natural terpenes gives this vape a Hybrid edge for a more relaxing, sedating vaporising experience.

Ingredients
Broad Spectrum CBD Distillate
Natural Black grape flavour (Natural flavouring, Monopropylene Glycol)
Natural Terpenes (Beta-Caryophyllene, Myrcene, Humelene, Limonene)

Blue Edition Vape
Flavoured with blueberry, this blue edition vape makes use of the terpenes found in our most popular edition CBD oil. Beta-Caryophyllene, Humelene, Delta 3 Carene and Alpha Pinene provide an additional complement to the high strength, broad spectrum cannabinoids contained.

Ingredients
Broad Spectrum CBD Distillate
Natural Blueberry Flavouring (Natural flavouring, Monopropylene Glycol)
Natural Terpenes (Beta Caryophyllene, Humelene, Delta 3 Carene, Alpha Pinene)
Begin by inhaling small draws to gauge tolerance. Repeat small draws if required. To be used with a vaporiser.

Mg of CBD
Nominal CBD/CBDA content – 250mg/0.5ml
This equates to a nominal CBD/CBDA content of 1.5mg CBD per average draw (150 to 200 draws per cartridge)

These disposable cartridges are suitable for use with most batteries/mods with a 510 thread.

Optimum wattage 10 and 20 watts. Maximum recommended wattage – 30.

TPD/TRPR compliant.

The FSA advises, as a precaution, that healthy adults should not take more than 70mg of CBD per day unless a doctor has agreed to a higher amount. Please consult your doctor for possible medicines interaction. Do not use you are pregnant or breastfeeding.

Store in cool dry place away from sunlight and moisture. Keep away from Children. Please retain outer packaging for reference.

Please note this product contains <0.01% THC.