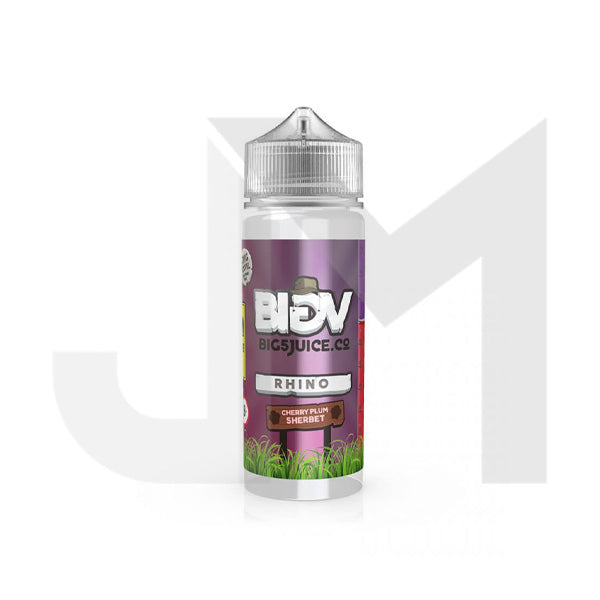 View Larger
Explore another wild frontier of vaping with Big 5's own range of 100ml Fruity Shortfills. With 5 sensational flavours that lovingly blend your favourite fruits into truly succulent mixtures that you and your taste buds won't soon forget.

Being a range of high VG e-liquids, the Big 5 Fruity shortfills are ideal for Sub-Ohm vaping devices. With a kit or a pod, great tastings flavour backed with thicker, warmer vapour clouds will be experienced during vaping along with less hits to your throat as well. There's also room for up to 2 nicotine shots where that feeling found from smoking tobacco cigarettes is emulated through nicotine infused vaping of your chosen e-liquid flavour.

- Made in Australia

- 0mg Nicotine Strength

- 100ml E-Liquid Content in a 120ml Shortfill Bottle

- Space for 2 x 10ml (18mg) Nicotine shots

- 70VG/30PG

- Ideal for Sub-Ohm Devices and Kits

- Childproof Cap and Tamper Evident Seal

- Recyclable Bottle

- TPD Compliant

Flavours:
Elephant
An unusual combination of citrus and strawberry that will grant you a stampede of taste as soon as it hits your mouth.

Rhino
This flavour brings with it a truly potent sour cherry aroma that's as strong as any rhino.

Buffalo
A juicy combination of white grape and the ripest pineapples that tastes as spectacular as it sounds.

Leopard
Sweet peach tea flavour with a chilly ice designed to keep one refreshed and cool as you go on your vaping journey.

Lion
With mouth watering pomegranate and lychee slush, you'll feel this apex flavour right from the first puff to the last.