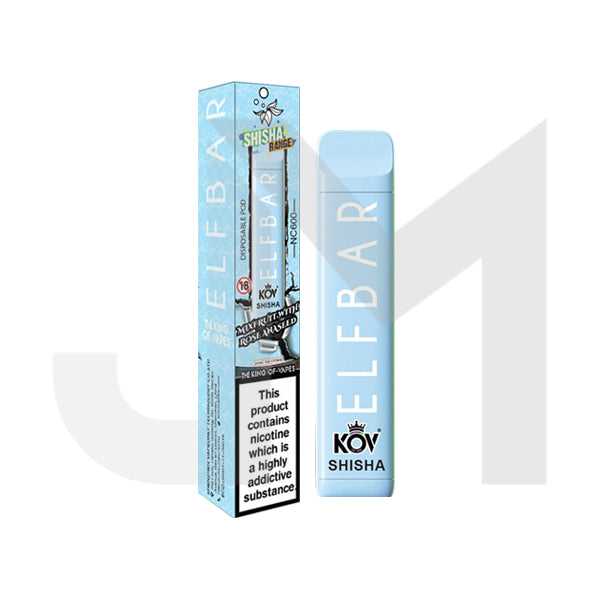 View Larger
 Please Note: These disposables  are passed their expiry date on 17/04/2023.
Under their new Kov Shisha Range, this set of Elf Bar NC600 Disposable Vapes will make for easy, enjoyable vaping with its set of tantalising, standout flavours.

A disposable vape is quick and convenient to you. You will never have to refill or recharge it. Just unbox, switch it on, and start vaping! And when choosing the right wholesale disposable Elf Bar, you can arguably do no better than the Shisha range thanks to its smooth long lasting taste and elegant smoke clouds.

The Elf Bar 600 Kov Shisha Range is great for beginners and advanced vapers alike. Any flavour you pick has 2ml of pre-filled nicotine salt e-liquid with 20mg nicotine strength inside each one. This makes it ideal for smokers looking to give vaping a try. In addition, each vape pod in the Elf Bar Kov Shisha Range is very handy to use and light to hold due to its slender and delicate body design.

The integrated 400mAh battery will ensure it will last up to around 600 puffs, which is the equivalent to around 40 cigarettes. Once you are finished, you can safely dispose of this wholesale disposable vape and open a new one - and off you go again!


Specifications:
- Capacity: 2ml
- 20mg (2%) Nicotine Strength
- Battery: 400mAh (Built-In)
- Up To 600 Puffs
- Disposable Device
20mg Elf Bar Kov Shisha Range NC600 FAQ
What is Elf Bar and is Elf Bar safe?
Elf Bar is a reputable supplier of vaping products. Established in 2018, it is a brand committed to providing safe vapes with natural ingredients through JM wholesale. That's why all our products are branded proudly with the Elf Bar logo.
What Does Shisha Mean?
Shisha is an age-old practice of smoking heated tobacco through a pipe. The Elf Bar Shisha range mimics this experience.
How many flavours are there?
The Elf Bar Shisha range offers some explosive flavour profiles including apple and berry, berry blast, watermelon chilli and berry blossom.